Area WWII Veteran Receives Honorary Aviation Experience Through National Partnership with Dream Flights Charitable Organization
CUTLINES: A resident of The Park Oak Grove community was honored with a historic, tribute flight in an authentically restored, WWII-era biplane. 
Roanoke, VA August 31, 2021 – A surviving World War II hero from the local community took to the skies on Wednesday, August 25th as a proud recipient of honorary, Dream Flights in a restored WWII era Stearman biplane. 
The flight was conducted by non-profit organization Dream Flights, and was part of Operation September Freedom, the largest US barnstorming event of its kind, which aims to recognize and honor brave individuals who defended our country in WWII. Operation September Freedom will run from August 1 through September 30, with Dream Flights planning to fly nearly 1,300 WWII veterans in cities and towns across the US in that 60-day period. 
Among the very first to fly was Carl, a resident of The Park Oak Grove, whose parent company, Discovery Senior Living, recently began a three-year partnership with the Dream Flights organization. Carl, 96, served in the Navy Airforce from 1943-1946. The veteran enjoyed honorary Dream Flights on Wednesday, which commenced from Roanoke Regional Airport, 22 Waypoint Drive, Roanoke, VA 24012. 
Both Discovery Senior Living and Dream Flights have spoken about Operation September Freedom quite possibly representing the nation's last, great opportunity to honor WWII veterans and capture and share their stories with future generations. Of the 16 million Americans who served in WWII, only an estimated 100,000 remain living today, with the youngest WWII veteran being age 95 in 2021. 
About Discovery Senior Living 
Discovery Senior Living is a family of companies that includes Discovery Management Group, Morada Senior Living, Discovery Development Group, Discovery Design Concepts, Discovery Marketing Group, and Discovery At Home, a Medicare-certified home healthcare company. With almost three decades of experience, the award-winning management group has been developing, building, marketing, and operating upscale senior-living communities across the United States. By leveraging its innovative "Experiential Living" philosophy across a growing portfolio of almost 12,000 existing homes or homes under development, Discovery Senior Living is a recognized industry leader for lifestyle customization and, today ranks among the 10 largest U.S. senior living operators and providers. 
About Dream Flights 
Dream Flights is a 501(c)3 organization dedicated to honoring seniors and military veterans by providing them the experience of a lifetime. Created and founded in 2011 by Darryl and Carol Fisher and the Fisher family, the organization provides 20-minute Dream Flights in its fleet of restored Boeing Stearman open-cockpit biplanes, the same aircraft used to train many military aviators in the late-1930's and early-40's. Dream Flights also helps veterans tell their stories, close the generation gap, and help promote a clearer understanding of ourselves and the world. Dream Flights' newest initiative, called Operation September Freedom (OSF), is designed to specifically honor surviving WWII veterans throughout a two-month mission to fly as many of them as possible from August 1 through September 30.
# # #
Carl in the plane before takeoff.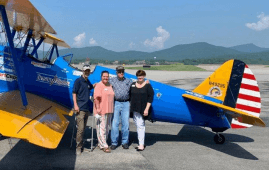 Carl signing the tail of the plane.
Media Inquiries:  
Heidi LaVanway, Vice President of Marketing 
HLaVanway@DiscoveryMGT.com | 239.301.5330